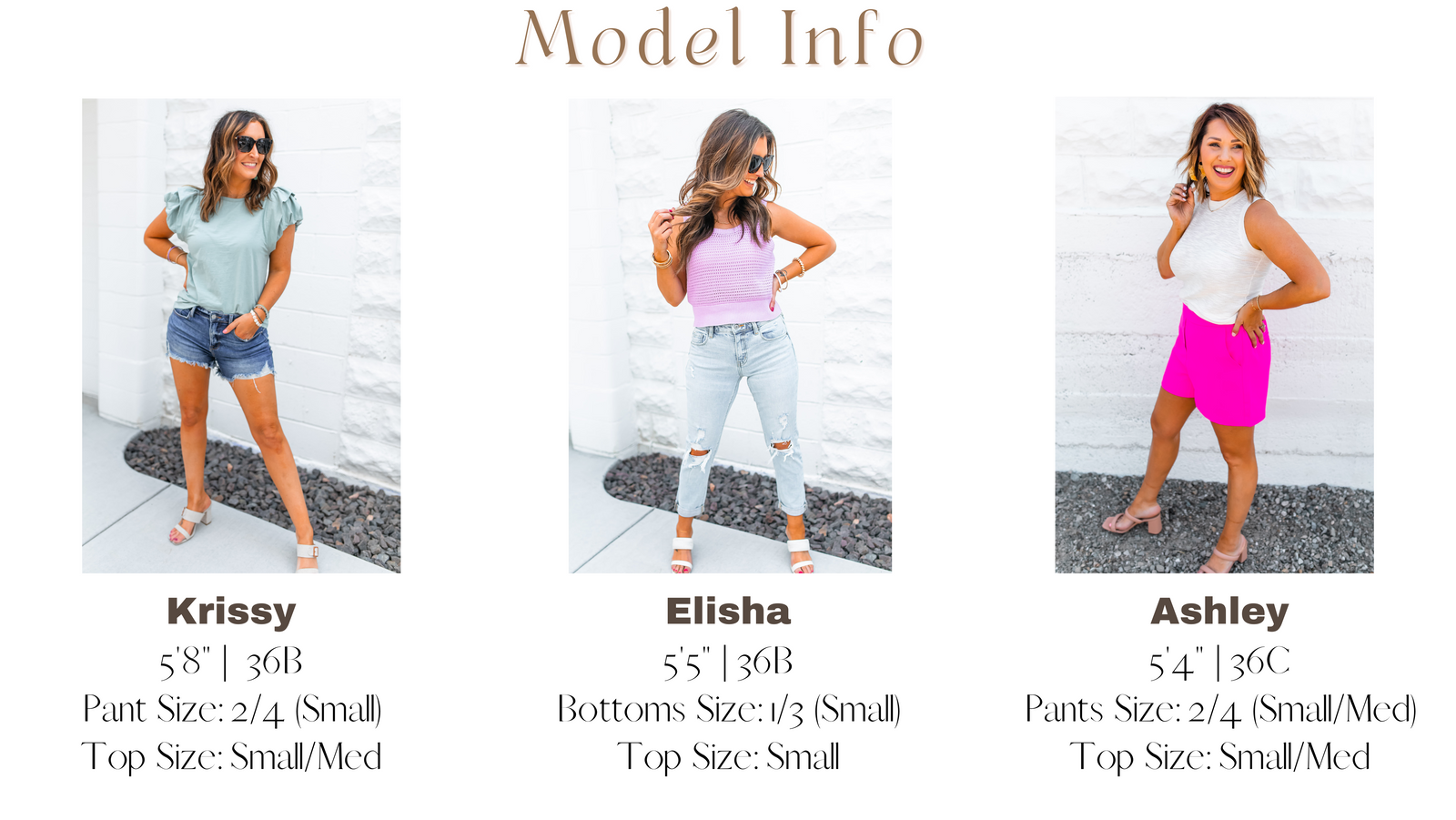 Size Guide & Fabrics
Does it have stretch or no stretch? Is is clingy or not? Will it shrink and how much? Is it silk or cotton? These are just a few of the questions we have when we shop online. We get it. It's difficult to envision from behind a screen the texture and feel of a product and determine whether you will like either of those details and how they will look on you. Often times, the fabric and feel of a product is the make it or break it point in deciding whether or not you really like it and want to purchase it.
 
We're here to help. We want to make the online buying process as smooth and simplistic as possible. We're helping to take out the guesswork and ensure that you love your One Eleven Olive Boutique purchase by providing a list of the common fabrics that our products are made of as well as the variety of characteristics that typically accompany them. This is not an all inclusive list, but should provide enough information to assist you in imagining how each product is made and what it would feel like to try it on prior to purchase. In any case that you further questions, we would love to hear from you! Email us at oneelevenolive@gmail.com . 
​
Cotton
Cotton is used to create a variety of fabrics that many of our products are made of. It can be woven or knit. Anything that is 100% cotton on our site is usually woven, lightweight and breathable (for Spring/Summer products). For products that are constructed of a knit/t-shirt fabric, cotton may be blended with polyester and/or spandex to add to the stretch. Products that are 100% cotton will shrink slightly while products made of a cotton blend tend to shrink less.
 
Rayon
Rayon is a manmade fiber that is used to mimic the feel and textures of many other fibers. Woven, it has a cotton-like feel, may be lightweight (depending on the product) and breathable. If it is found in a knit fabric, it is most often combined with a small amount of spandex to provide extra elasticity. Rayon fabrics may shrink when dried.
 
Polyester
Polyester is often found blended with rayon or spandex in knit fabrics or in woven fabrics, mimicking a chiffon or crepe look. Polyester is durable and typically does not shrink.
 
Spandex
Spandex offers elasticity to fabrics and allows styles that are fitted to adapt to your particular shape as well return to their original designed shape after wear.